It's always worse that way
I was testing YouTube's experimental iframe API that should allow HTML5 embedding, with the video I took of a recent Libary Voices concert here in Edmonton. It turned out like this: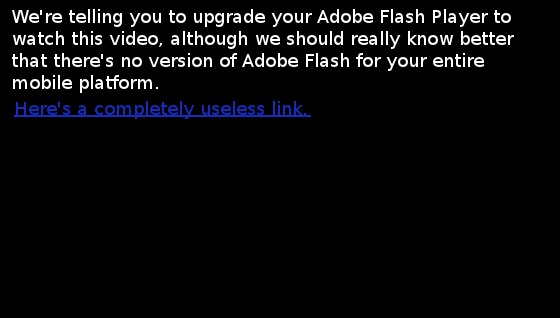 Maybe you can spot the problem. Certainly you can if you're checking from a mobile browser, or one that doesn't support flash; yup, it forces it to flash anyways. So what's going on here?
Well, I figured it out thanks to http://www.youtube.com/my_videos_copyright, which informs me that
which would be fair enough, if that was it. Now, the existence of musical rights collection societies is problematic philosphically, especially considering how they've traditionally functioned in forcing nearly all artists in jurisdictions to sign rights over, which both allow them to collect royalties even on uses where the artists would want to freely allow the use, yet on the other hand
stops artists from preventing use in cases where they object
. As someone who tends to believe our copyright laws in North America should probably err more on the side of protecting freedoms, that means the rights organizations are actually a mixed bag (although with their often predatory and reactionary practices and viewpoints, the sum is generally negative). Meanwhile if you look at it from an artist perspective, that essentially mandatory (at least, with the old Label system) loss of rights is worrisome. That's all somewhat abstract and argumentative, though; legally, whatever rights collecting society claimed the video I posted is completely within the law to insist on rights to the video, assuming they do indeed own the rights to Lennon's "Oh Yoko!" as the claim implies.
You can tell, of course, that there's a "but" coming, and that "but" is this: but it breaks the video. You see, in order to make money on it, the system in use by YouTube uses Flash to display an advertisement. Sure, well within their rights, and as a stipulation of allowing me to nonetheless post the video that's probably the best I could hope for, since under our current laws and social acceptance they hold the legal power in this situation. But by forcing it to use Flash, it makes it impossible for most modern smartphones to play the video. Now, this is likely a bug, especially considering that it loads just fine from the mobile YouTube site, but I want to embed it on my site and allow all modern browsers (especially mobile ones) to play it, so what am I to do? I suppose I have to just encode it myself and offer it without advertisements:
Now, the legality of this becomes perhaps more questionable. Obviously, to some degree I have the rights to the video, in that I took it; meanwhile, the band themselves are performing, and others own the rights to the composition itself, so we actually have three different groups of rights holders in the equation. Now, what state the rights to this particular song are at in Canada (where this file is being hosted) I don't know, and honestly, at this stage I'm tired of random roadblocks being set up in front of me. I'm just going to host the files, and if anyone holding the rights feels like the video should be taken down, they can feel free to contact me with proof of their ownership and I'll be happy to do so. In the meantime, I still don't even know what organization is, shall we say, "stealing" my ability to embed the video I took away from me. This is a reminder that the reason people "pirate" content from these giant rightsholders isn't because people aren't willing to comply with the law. Rather, it's because the rightsholders can't manage to make compliance anything better than Kafkaesque.